In July of this year three members of the Kawartha Junior Beekeepers will be traveling to Banska Bystrica, Slovakia to represent Canada at the 10th annual International Meeting of Young Bee Keepers (IMYB).  This will be the first time that any group from the Americas has attended this event.  Our team of young beekeepers, along with participants from other countries will be sharing their ideas and testing their knowledge.  At this time, 34 countries are registered to participate.  You can find more information about this event, and the registered teams here: https://imyb.sk/.   This is a once in a life time opportunity for these young beekeepers to represent their country at an international event.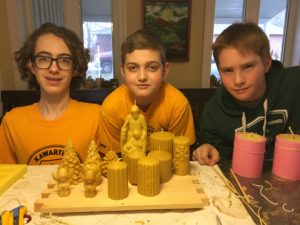 Bryn, Tate and Kaleb will be traveling with their two chaperones.  The estimated cost for this trip, including the team registration fee and travel, is approximately $10,000. Fundraising efforts are underway to help offset the cost of the trip and make it more affordable for the families and chaperones who are attending.
If you'd like to make a financial contribution, please send us an email through our Contact Us page, or contribute to our gofundme campaign: https://www.gofundme.com/Team-Canada-International-Beekeeping-Competition.  Thank you in advance for your support!
Our Supporters
We greatly appreciate the support of the following organizations: