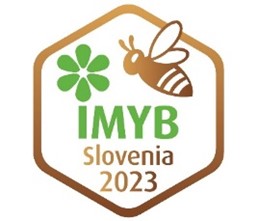 In July 2023, three young beekeepers from Ontario and British Columbia will be traveling to to Ivančna Gorica, Slovenia to represent Canada at the 12th annual International Meeting of Young Beekeepers (IMYB). This will be the second time a team from Canada will be participating in this international event.   They, along with participants from up to 40 other countries will be sharing their ideas and testing their beekeeping knowledge. This is a once in a lifetime opportunity for these youth to represent their country at an international event. It is also a unique opportunity to learn about beekeeping programs for youth in other countries.  The members of Team Canada include a young beekeeper from Vanderhoof, British Columbia – Malvina – and two young beekeepers from Ontario – Olivia from Hiawatha First Nation and Gracen from Niagara Falls.  The three team members will be traveling with two chaperones. The estimated cost for this trip, including the team registration fee and travel, is approximately $12,000. Fundraising efforts are underway to help offset the cost of the trip and make it more affordable for the youth and chaperones who are attending.  If you would like to contribute, here's our GoFundMe page: https://gofund.me/b89e55ae
Here's some information about Gracen, Olivia and Malvina:
My name is Gracen, I am 17 years old and I am currently in grade 12.  I live in Fort Erie, Ontario. As a child I was interested in many subjects but for a long time one of my fixations was eusocial insects, especially those in the order hymenoptera which includes ants, bees and wasps. So when I was offered a program where I could learn beekeeping through the Niagara Junior Beekeepers Program at Balls Falls conservation area, I decided to give it a shot. During this program I had a very good time learning about beekeeping and putting it into practice. My favorite part of this was learning of the various systems and senses that the bees use to gather, store, and use honey. What I really like about beekeeping is becoming part of the hive and working with the bees towards a common goal.
I am most looking forward to learning about how other cultures practice beekeeping and traveling outside of North America for the first time. I am grateful for the opportunity to, along with my other team members, represent Canada to the best of my ability.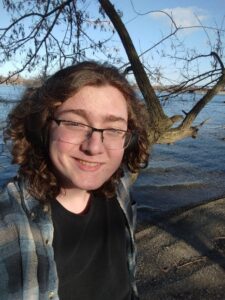 Aaniin, Waabiizhishii N'dodem.  Olivia Zhagaanosh Nooswin, Hiawatha Minoomingaming doonjibaa, Mississaugii Anishinawbee  N'dow,
Hi, my name is Olivia, I am marten clan, from the Mississaugas of Rice Lake. I am 14 years old and in grade 9. I live in my home community of Hiawatha First Nation.  I am entering my 6th year with the Kawartha Junior Beekeepers. I like beekeeping because you get to see into an entirely different world. They are so critical to the maintenance of the environment — they're responsible for pollinating flowers and crops, encouraging healthy ecosystems, and essentially helping all of creation.
I want to participate in the International Meeting of Young Beekeepers IMYB because it's youth from across the world, coming together to test our knowledge, but also to learn from our peers, with a common goal to help protect the bee. I am most looking forward to seeing how beekeeping is done all over the world, and how other countries are able to encourage their youth to become beekeepers at IMYB.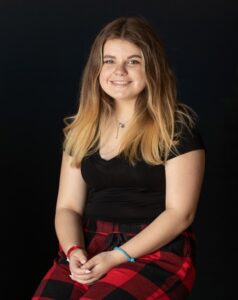 My name is Malvina.  I am 16 years old, in grade 11 and from Vanderhoof, British Columbia.  I was born in a beekeeping family, I have worked with bees ever since my childhood. Despite the many things that I enjoy about beekeeping, one of the main reasons that I love about beekeeping is not having the fear of being stung, at the beginning it can be scary and painful but the more it happens, the more the fear fades and the less painful it becomes.
Since the first time I heard about IMYB I have wanted to represent my family and my country and being the first young beekeeper of B.C is a true honor. I want to test my knowledge with other young beekeepers with what we have in common, make friends and learn different cultures and beekeeping methods. Some things that I'm looking forward at IMYB is not only make some friends and gain more knowledge but also have fun and enjoy a wonderful and memorable experience at IMYB and represent Canada the best way possible and I hope that in the years to come many other young beekeepers will have this same opportunity and experience.